DX0DX Thitu Pagasa Island Spratly Islands
2010-12-23 18:20:18
DX0DX,Thitu,Pagasa Island,Spratly Islands


VK3FY , VK3FGRC , K3LP , DV1UD , VK3FNIK , N6PSE , VK2GR , VK2FXGR , VK6YS , VK3GK , DU1EV , SM0MDG,
EA3NT , DU9XO , 4F1OZ , AH6HY , IZ7ATN , K1LZ , YT1AD , F2JD , N6NKT , RA9USU , K7HC , VU2SWS , GM3POI , GM0WED , GM0RLZ , N6TQS , K1ZM , I2VGW , YT6W and YU1AU will be active from from Thitu (Pagasa) Island , Spratly Islands (IOTA AS-051) 6 January -1 February 2011 as DX0DX
They will be active All Bands All mode
QSL via N2OO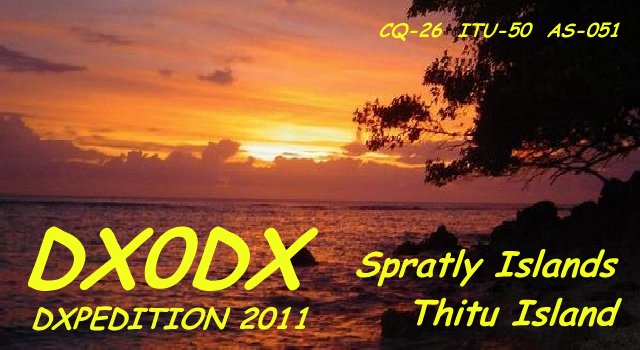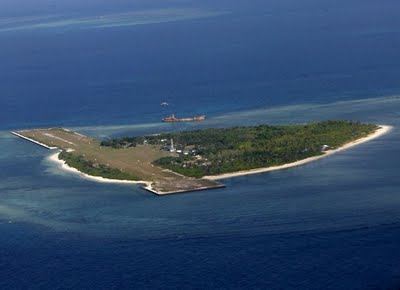 9899&nbspviews&nbsptotal,&nbsp2&nbspviews&nbsptoday
Follow us on Google Plus
Tweet
DX0DX ,Thitu ,Pagasa Island ,Spratly Islands
Comments
23.06.11

the island is for the filipino people. they deserve it because they are poor.
26.06.11

., it is truly indeed for a filipino. not just because we're poor., but the island was proximity to the country of philippines wherein it is really a part of phillpines.
13.07.11

ang laki pla ng spratly
13.07.11

Dapat noon pa ginugulan ng time at pera ang Pag Asa para makita ng ating mga neighbors na tayo ang karapat dapat mag may ari ng mga isla. Instead na mag sikuha ng pork barrel ang mga politiko, sana doon na ginugol sa pag develop for military and commercial purposes. Ngayon pa i develop which is too late. Remember na China is the biggest trading partner of USA, Europe and the rest of the world not RP. We can be sacrifice for the sake of business like what happened in SABAH, Borneo. We assume that big brother will always protect us but not from their own self interest. We force the americans to leave the bases but not until Pinatubo erupts...........which is another case. We don't want them in our country but most filipinos wake up early to take their queue in U. S. Embassy hoping to taste a better life or buy a lot of Made in USA. Pag may umaway tawag kay kano, pag tahimik, alis kayo sa aming bansa. Well, take your pick ang put your loyalty when the Chinese invade Sparatly Islands and buy Vans, Sony Ercsson, Nokia, Coverse, Nike Made in PRC, not in Republic of China. Now hurry up and enlists to a nearest Navy, Army or Air Force recruting station to defend Juan de la Cruz. No, call the US Navy and welcome back Joe! We missed you and your imported goods, stay as long as you drive the Chinks but we'll treat you to a very fancy chinese restaurant in town. No Yuan just US Dollars for payment, please.
03.08.11

sa pilipinas yan!!!